Steven Browning was one of the founding members of the Helena Area Community Foundation, and was well known for his generosity in time, talent, and money in supporting non-profits in Helena. In 2015, HACF introduced the Steve Browning "Spirit of Philanthropy" award given to community members who carry on Steve's commitment to make the Helena Area a great place to live, work, play and raise a family.
The Foundation and the community has benefited from Steve's vision, hard work, wisdom and financial support. It is with warm memories and deep gratitude that we recognize his passing in May 2018.
2022 Margaret Corcoran and Jim Madden 
Helena natives Margaret Corcoran and Jim Madden are the kind of philanthropists who usually prefer to work behind the scenes. Married 42 years and parents to 2 daughters, Molly and Lucy, Margaret Corcoran, former long term HACF board member, and her husband, Jim Madden, attorney for the Department of Environmental Quality, owned Benny's Bistro in Helena for 22 years. Now that Margaret and Jim are retired, they remain committed to volunteering in the community, mainly for Food Share. Jim rides the rescue food truck, while Margaret does monthly cooking demonstrations. Margaret and Jim are both excellent examples of lifelong involvement and love for their community. Helena is lucky to have them, and we are proud to honor them with this award.  
2021 Marcy and Dan McLean
Dan and Marcy have been philanthropic powerhouses to the Helena Community. Dan, retired attorney from Crowly Fleck PLLP, served several years on the Montana Legal Services Board of directors, and continues to provide pro-bono legal services. He also participated on the Governor's Task Force for Philanthropy where he was a part of establishing the Montana Endowment Tax Credit. Marcy, retired from the MT Medical Association Health Plan Trust, served on the board of the Friendship Center and the Helena Area Community Foundation. A great number of nonprofits have benefited from Dan and Marcy's support, either directly or indirectly through the programs they have helped build and the others they have inspired.
2020 Melanie Reynolds and Bob Rowe
Bob and Melanie were selected for this award due to their generous philanthropy in Montana and Helena, and were selected this year particularly for their contributions to the Helena Area Emergency Relief Fund for COVID-19. Bob Rowe is the CEO of NorthWestern Energy, and Melanie Reynolds is the former Health Officer for Lewis and Clark County (retired in 2018). With a history of volunteering on a wide variety of nonprofit and professional boards, Bob and Melanie continue to be active in sharing their time and generosity with the Helena area and Montana. 
2019 Peter Sullivan 
Peter Sullivan was born and raised in the Helena Area.  In 1957 he graduated from Carroll College.  He is the founder of Sullivan Financial Group; a business that has grown and thrived for over 53 years based on the philosophy everything goes better with a Plan!  Mr. Sullivan has served as president of the St. Peters Hospital Foundation, Western Montana Catholic diocese Foundation, Helena Jaycees, Florence Crittenton Home and the Helena Area Chamber of Commerce just to name a few.  He was appointed director of the Governor's Task Force on Endowments and Philanthropy, as is a recipient of the George D Anderson Business Person of the year by the Chamber of Commerce. 
Connie & Ron were both born and raised in Helena.  They married and raised their family here.  Ron worked as a pharmacist in and later owned the family business, Bergum Drug.  Connie is an artist, working as a children's book illustrator, water-color painter, and most recently with ceramic tile.  They are deeply involved and committed to their community.  They have both worked on several non-profit boards in the Helena area and have been particularly active in Art in the Schools, the Helena Symphony, Holter Museum of Art, and mental health to name a few.  They credit one-another for their long-lasting spirit of giving.  Their philosophy is to give what they can to as many as they can.  
2017 Mary Munger
A longtime Helena resident, Mary Munger was given the Steve Browning Award this year honoring her for her true dedication to philanthropy.   Mary is a strong supporter of the Nursing programs in Montana.  Her family foundation also strongly supports organization to help, kids, families, and those in need.  Mary truly cares about Helena residents and making Helena and all of Montana a place where everyone can thrive.
Mary is such a gracious person who as a nurse spent her life helping others and continues to support.  As she says, "We don't do anything alone."  Please take a moment and watch this video about Mary and her dedication to others.
2016 Curt and Mary Larsen
Curt and Mary Larsen were presented with HACF's 2016 Steve Browning Spirit of Philanthropy Award.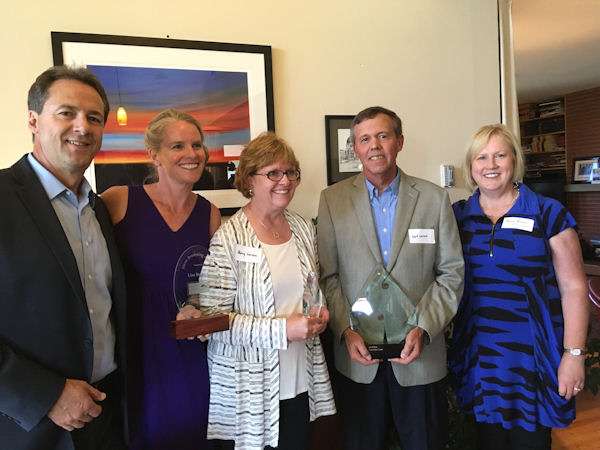 At a special event at the Governor's Mansion, the Larsen's were described by HACF President, Marcy McLean as "humble philanthropists who are very generous to the Helena community with their time, talent, and money."
Curt Larsen served on the board of HACF in the past and the couple made a generous gift annuity to HACF several years ago.  Curt has worked with many other area non-profit organizations and was a founding member of the Prickly Pear Land Trust and president of the board. He was a founding member of the Helena Habitat for Humanity and both he and Mary served on that board.  He currently serves on the board of the Myrna Loy Center.
Mary Larsen is also deeply involved with local non-profits, having been a founder of Family Promise, whose board she continues to serve on. She has also been on the board of the Montana Learning Center at Canyon Ferry Lake, a Cub Scout leader, church camp director and joined her husband on global village work trips to Romania, Botswana, and Chile with Habitat for Humanity. She continues to be involved with many church and community activities.
2015  Lisa Bullock
First Lady of Montana Lisa Bullock was presented with the first Spirit of Philanthropy award.  Lisa has been an ever-present supporter of the Helena Area Community Foundation.  She was a member of the Board from 2008-2013, serving as Treasurer for most of those years.  She has also served on the Carroll College Board of Trustees and Montana Meth Project and Red Cross. 
Along with Governor Bullock, Lisa is an advocate for feeding kids who come to school hungry. Through their initiative to alleviate childhood hunger in Montana, she assists with providing Breakfast after the Bell mini-grants to schools to increase school breakfast participation through innovative programs. She also helps to increase awareness and to support community organizations in this effort.
Lisa also helped start the Montana STEM Mentors, an initiative which asks women across Montana to become active leaders in their communities by mentoring young women who are interested in STEM related careers. She also serves as a Board Champion for the Montana Girls STEM Collaborative Project.